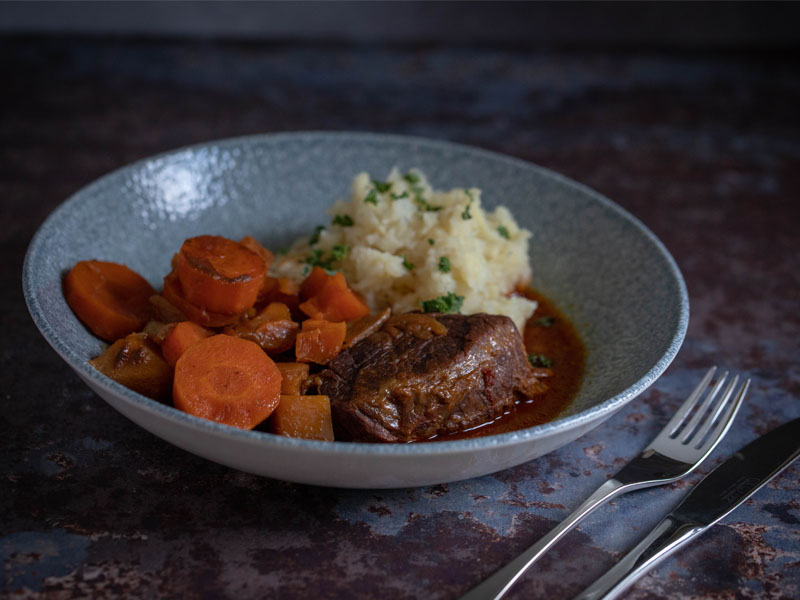 Slow Cooker Beef & Vegetable Stew with Celeriac Mash
Your local Butchers at The Hollies Farm Shop have cuts of meat that make the perfect Winter meals. Why not try this slow cooker beef and vegetable stew served with celeriac mash?  A hearty stew full of taste and nutrition – perfect for those cold evenings. This recipe is from Clean and Lean, the healthy choice by Emma Wilson Fitness.
Serves 8 people.
Ingredients
For the stew;
1kg beef chuck
1 tablespoon coconut oil
1 medium white onion
4 cloves garlic
1 tin (400g) chopped tomatoes
240ml beef or vegetable stock
4 diced carrots
1 chopped swede
2 tablespoons ground cumin
1 tablespoon paprika
1 teaspoon ground ginger
1 teaspoon chilli powder
1 teaspoon ground coriander
1 teaspoon turmeric powder
2 cinnamon sticks
2 bay leaves
Himalayan pink salt & black pepper for seasoning
For the celeriac mash;
1 celeriac
Knob of butter or splash of double cream
Himalayan pink salt & black pepper for seasoning
Method.
Lightly brown the steaks in a hot pan with coconut oil and season with salt & pepper.  When browned all over, transfer in to the slow cooker.
Grease the pan again with coconut oil.  Add the onion and cook over a medium heat for 5 to 8 minutes, or lightly browned.  Add the garlic, tomatoes, stock, cumin, paprika, ginger, chilli powder, coriander and turmeric.  Bring to the boil and then pour into the slow cooker over the meat.  Add the carrots, swede, cinnamon sticks and bay leaves.  Cover with a lid and cook for 5 to 51/2 hours on high.
Peel and chop celeriac as you would a potato into small cubes. Bring to the boil and simmer until soft. (around 15-20 minutes)
Mash with salt & pepper, a splash of double cream if wanted.
You can add 30g grated cheese or horseradish or English mustard for a lovely flavoured mash.
Discard the bay leaves and cinnamon sticks.  Serve with the celeriac mash and enjoy!
To store let it cool and refrigerate for up to 4 days or freeze for up to 3 months.
Look out for recipe cards in store.