The Bakery

Daily baked bread
Devonshire Bakery | Home-baked Bread | Artisan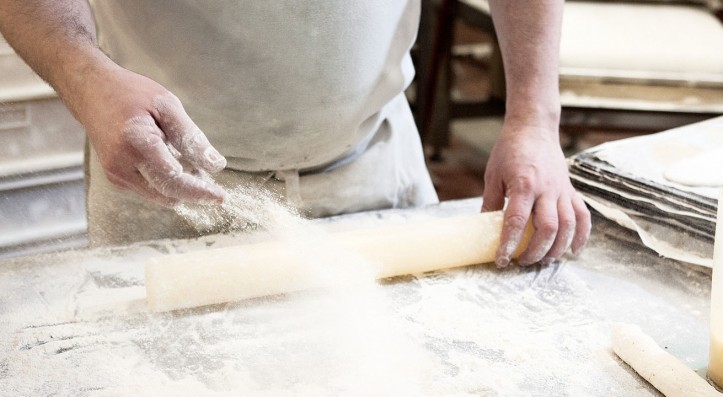 Down

Our

Bakery
***Thank you for visiting our website. Following the current global COVID-19 situation and instructions from the Government, ONLY OUR FARM SHOPS REMAIN OPEN offering essential food to our local community.*** 
The team in The Bakery within The Hollies Farm Shops are up early each morning to bring you freshly baked goods. From the beginning of each day, delicious smells reach out to you – who can resist?
Daily deliveries from Devonshire Bakery (excluding Sundays) are complemented every day by our own freshly baked bread, delivering you a large selection of bread to choose from. Favourites include French stick, Bocatta, Walnut Loaf, Six Grain Twist, White Baltic Loaf, Jalapeño and Cheddar Loaf, Rosemary and Olive Oil Loaf, Seeded Grain and Honey, Black Olive Pave and Sour Dough Baguette.
On the savoury side we make a wide range of delicious pies and sausage rolls. Choose from Traditional Sausage Rolls, Pork and Caramelised Onion, Hickory Smoked, Welsh Dragon, Pork and Apple plus many more. Try our homemade pies; Chicken, Steak and Onion, Steak and Ale, Meat and Potato or Cheese and Onion, for that warming meal.
At the weekends the delightful smell of pastries flurries through the shop; freshly baked croissants. Buy these cooked and ready to eat, or they are available frozen ready to bake at home along with chocolate twists and more.
Our Favourite Breads
Devonshire Bakery's multigrain loaf
Devonshire Bakery's Cornbread
Freshly baked french stick
Our Favourite Bakes
Hollies homemade sausage roll
Jo's Cakes apple pie
Freshly baked croissants
Please note to avoid disappointment, times may vary from time to time, please call to confirm closing time.
Contact details
Address; The Hollies Farm Shop, Forest Road, Little Budworth, Cheshire, CW6 9ES
Telephone: 01829 760 414 – option 4
Email here