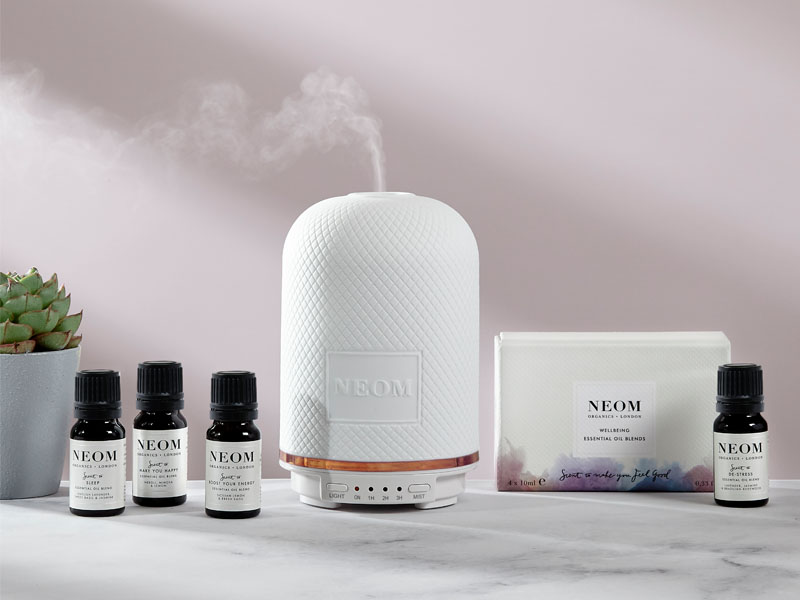 Neom Organics Wellbeing Pod
Introducing the Neom Organics Wellbeing Pod! The Wellbeing Pod delivers the perfect amount of scent in minutes to your home and helps to improve your wellbeing.
The Neom Organics London range of home fragrance, bath and body products have therapeutic benefits to relieve stress, help you to calm and relax, boost your energy or lift your mood. All the products are 100% natural fragrances for the mind & body. They are made in Britain from ethically sourced, sustainable origins, with only natural & organic ingredients. The products contain no petrochemical paraffin or mineral wax, no artificial perfume only pure essential oils and no harsh preservatives.
Nicola, the founder of Neom states,
"After spending seven hectic years working 60 hour weeks as an editor for Glamour magazine, I noticed my own wellbeing, and that of my close friends, was being affected by the stress and demands of a modern day busy life…. The worst offenders? Poor sleep, stress, low energy and mood swings. This kick started my own wellbeing journey, I trained as an aromatherapist and nutritionist and from there, together with my business partner, Neom Organics was launched in 2005. I believe there really are small steps you can take to help you feel your best every day. After all you can't look good if you don't feel good."
The new Pod uses Essential Oil Blends and you can easily switch the scent to suit your wellbeing need. It features a low energy LED light and a timer as well as humidifying the air around you; a fine mist of scented vapour stimulates your senses and boosts your wellbeing. Simply fill the tank with water and add 5 to 10 drops of your chosen Neom Wellbeing Essential Oil Blend. Whatever your wellbeing need, the Neom Wellbeing Pod works at the touch of a button, helping you achieve better sleep, less stress, a mood lift or more energy through the 100% natural essential oil blends.
The fragrances
Scent to make you Happy
Whatever your version of happiness is, Neom believe it starts with a positive state of mind. The Neom Happiness fragrance is a complex blend of 7 of the purest possible essential oils including neroli, mimosa & lemon, all expertly blended to help you balance and uplift your emotions.
Scent to boost your Energy
Pure, natural energy…there's nothing better! The Neom Feel Refreshed fragrance is a potent combination of 24 of the purest possible essential oils including Sicilian lemon & fresh basil, all chosen to help stimulate a tired mind and encourage clear thinking.
Scent to Sleep
Nothing affects how you look or feel as much as sleep, or lack of it. The Neom Tranquillity fragrance is a complex blend of 19 of pure essential oils including English lavender, sweet basil & jasmine, all expertly blended to help you relax and prepare for sleep.
Scent to De-Stress
It really is possible to create a calm zone in your home! The Neom Real Luxury fragrance is a complex blend of 24 of the purest possible essential oils including lavender, jasmine & Brazilian rosewood, all expertly blended to help you feel calm and banish stress.
For more information, visit the Neom Organics website.
Categorised in Farm Shops, General