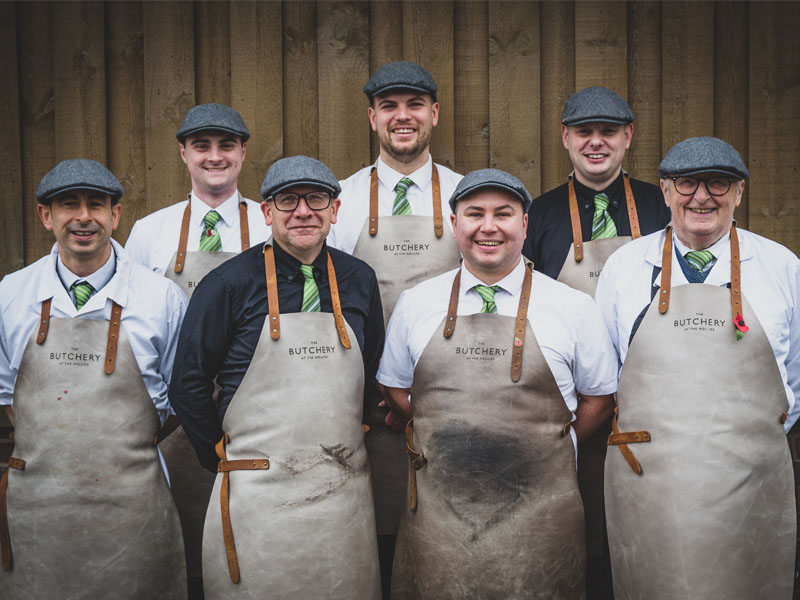 'Meat' THE BUTCHERS
Our Butchery teams are gearing up towards the busy Christmas season. Meet Dale, Aaron, Mark, Russel, Steve, Liam and Ken who all work at our Little Budworth Butchers.
The festive period is very full on for our Butchers, they work long hours to make sure that all your Festive Meat Orders are ready in time for your Christmas celebrations. Over the festive season, our Butchers at Little Budworth alone will hand make and roll over 10,000 pigs in blankets!
A few fun facts:
Mark is our top salesman; he has the gift of the gab when it comes to selling our products.
Dale is our sausage King; he makes the perfect sausages and knows all the recipes off by heart.
Ken and Sue are our oldest standing Butchers, they have both worked on our Butchery since we first opened in 2011.
Our Butchers age range is from 25 – 75.
Our Butchers are always on hand if you have any questions about our meat on display. You can find our fantastic Butchery counters at both our Little Budworth and Lower Stretton farm shops.
Categorised in Butchery, Farm Shops