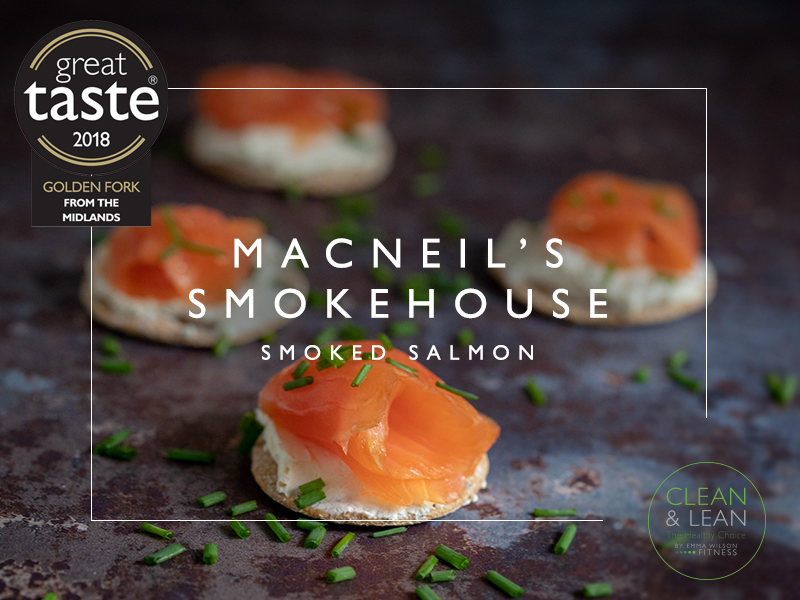 Macneil's Smokehouse
Macneil's Smokehouse is a small artisan scale producer who make small batches of products in their professional smokehouse.
We stock Macneil's Smokehouse products at both of our Farm Shop's. We also use the Macneil's Award-Winning smoked salmon in our dishes at our Little Budworth and Lower Stretton Coffee shops and our Restaurant 32 By The Hollies.
Macneil's were recently invited to the Guild of Fine Food's glittering Great Taste awards night in London's Park Lane Intercontinental hotel.
Macneil's were nominated in 2017 and won a prize for their smoked mackerel. Macneil's were again nominated in 2018 for the Golden Fork for the Midlands for their delicious smoked salmon. They managed to win yet another award.
Why not create some Clean & Lean canapés? – Macneil's delicious smoked salmon atop Longley Farm's full fat cream cheese presented on a Peter's Yard sourdough cracker bread.
Have a look at the Macneil's story – https://www.macneilssmokehouse.co.uk/
Well Done to the Macneil's Team!
Categorised in Coffee Shops, Delicatessen, Farm Shops, General