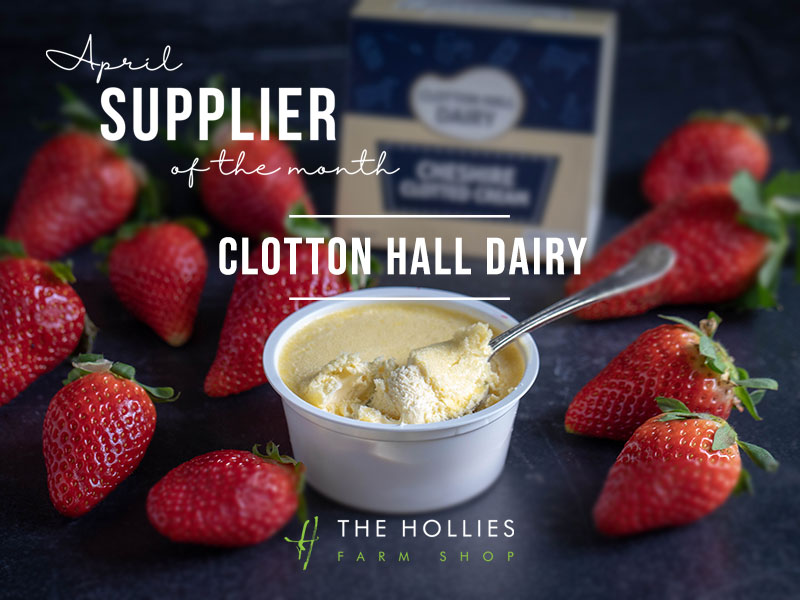 Clotton Hall Dairy
We are thrilled to feature local supplier Clotton Hall Dairy as our April 'Supplier of the Month'! We are proud to showcase over 75 local suppliers here at The Hollies and we love getting to know the story behind the products we sell, and their founders, to help us to understand and appreciate their brand. Following on from their appearance on BBC's Countryfile, and welcoming Henry to tastings at both our Little Budworth and Lower Stretton last month, we have loved finding out about how their business turned to clotted cream!
Clotton Hall Dairy is run by young entrepreneur Henry Cooke with the support of his family. Founded in October 2017 it has been growing ever since!  The idea came about when Henry was looking for a dissertation topic whilst at University. Finding that there wasn't a well-known Clotted Cream maker in the north of England, he did his research and decided to take on the challenge!
Clotton Hall Dairy pride themselves on creating a luxury Clotted Cream product from the high-quality milk they get from their free-range cows. After researching the best breeds for the best taste, the dairy now have Danish Red, Jersey, Holstein Friesian and a few others. The recipe and cooking time, as those of you who watched Countryfile will know, is still a closely guarded secret!
Clotton Hall Dairy Clotted Cream is a Great Taste Award winner, an International Dairy Award Silver Medalist and is currently a finalist in the Small Food Producer Category at The Taste Cheshire Awards which will be revealed in April!
Henry tells us that they are hoping to bring out a 'complementary product' in the next 6 months – we will be keeping an eye out for that!
Categorised in Farm Shops, General