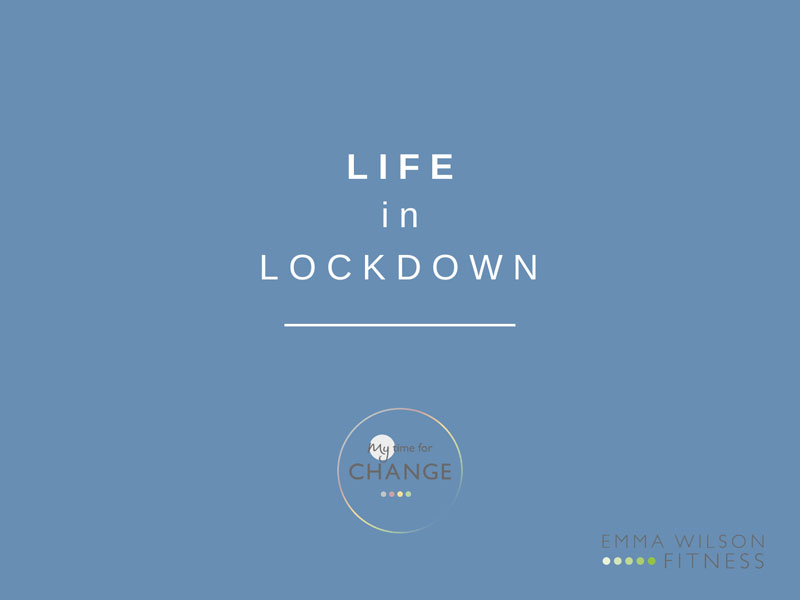 Life in lockdown
Stop, stand back and observe, life is just about to become more wholesome!
Our brains are processing information at a hundred miles an hour; its constant.  Social media, television, news streams and everyone around us are talking about coronavirus.  You are desperately trying to filter and make it all make sense; why has a beer suddenly become a virus?  What do you mean millions of people worldwide are being asked to stay at home?  People are starting to stockpile; how can we manage without pasta and toilet roll?  Sorry, did I hear you right, the schools might be closing?  And so, it went on, weeks before we embraced our new normal, we were processing and anxiously trying to make sense of it all.  We were all trying to prepare in some way and in fact we continue to do so.
It is no doubt an emotional rollercoaster, day to day the emotion changes.  We are saddened by death across the world, fearful as it nears our own doors, protective of our loved ones, saddened by changes to our freedoms, confused by the conflicting data and at times grieving for a life we once knew.  However, we are also warmed by the stoical way in which the NHS workers are bravely doing all they can to save lives, the frontline team in food retail who are giving their all to make sure supplies continue to be available to customers, the key-workers who despite their own health fears and those for their families, still go to work to support the nation in whatever capacity that needs to be.  You recognise the value in every single one of these people, humans who may have been taken for granted in the past.
And so, we find ourselves in lockdown.  Obviously, this means so many different things to everyone; I cannot imagine the circumstances that some are now having to endure, and my heart goes out to them.  From my privileged position this is how it all unfolded.  The previous week I had placed my parents in lockdown recognising that their underlying health issues meant they needed protecting; food delivered to their doorstep and a wave through the window was how it needs to be for now.  The precursor to day 1 in our own lockdown was an anxious explosion.  It built and built… How do I work from home, fulfilling my job role, whilst educating a 10 & 7 year old, clean the house, support my husband in his role in food retail, make sure my parents are safe and find enough oxytocin in close proximity without access to my favourite people outside my fellow quarantine gang?  A scrambled brain overloaded with unanswered questions, something had to give…. oh and it did!  A cacophony of words poured and poured from my mouth in a random order to a bewildered audience of my little family.  Following the explosion, we sat together and tried to fathom, as a collective, how to move forward in our quarantine capsule.  It surely couldn't be that hard, after all, we have all only been asked to stay at home on our sofas!
Our first priority was to establish some structure; 7-year-old Ella devised a timetable for their home-schooling.  Mornings were to cover the minimum requirements from school (and I mean the bare minimum!) and the afternoons were described as 'FREE'!  Within the first 2 weeks of our new circumstances the children had a beautiful routine which made them happy, secure and willing to explore new things.  They have bagged potatoes & satsumas in the store room, learnt skills in housekeeping duties at home, used oodles of imagination as they created new games, eaten (what feels like) hundreds of picnics and have taken pride in their ability to take control of their own school workload so they can seek some freedom in every day.  From the initial panic of becoming a full-time parent, never mind teaching assistant, I now glow as I hear their chatter & laughter in the background of my working day.
So that was the children, it was now important for the adults in our household to be grown up too!  It is vital for your mental wellbeing to give yourself some structure, to get dressed, brush your teeth, set goals and find a pathway that is purposeful.  I have created a routine for myself, which includes a daily workout with Emma Wilson Fitness live online, a daily dose of fresh air and have continued to plan my meals for the week (to consume as many nutrients as possible). We are fighting with complex emotions all the time; guilt, fight & flight, resentment, dislike for change, sadness, anger, confusion, love, warmth, appreciation and gratitude.  Mourning for a life you once knew and hope for the life that is to come, therefore our health and wellbeing is critical at this time.
If there is ever a time to be part of a community of positive people and to be looking at how best to look after your health, it is now.  It would be so easy to fall into a rabbit hole; to stop taking care of yourself, spend more time at the fridge, stop moving and increase the self-sabotage.  My Time for Change is a community-wellbeing-health-hub. A positive group and place focussing on health, wellness and emotional support. Food will ALWAYS be a part of the programme but worrying about fat loss at this time is secondary to keeping your mental health in the best possible state.  Until such time that we can crack on with getting the shape and body we are chasing, we can focus on holding it all together. Keeping dozens of plates turning, whilst maintaining a smile, a manicure and not letting our jeans get too tight….  My Time for Change has become my lifestyle; Emma supported me through a fantastic journey of change with her knowledge, support and inspiration.  I know that now is the time that Emma & the My Time for Change programme can really offer the focus and stability during an emotional and confusing period for us all; through the daily motivational vlogs, 10-minute workouts of the day, life hacks, community and recipes to nourish.
We need to steady ourselves and breathe.  I've taken a moment; sat in the sunshine, taken everything in, been in the moment if you like, listened to the singing birds, had warmth of the sun on my face and looked up to the blue skies. There is less noise pollution as there are fewer cars, no flights, no digging quarries, no race days in full throttle in the distance. It's literally nature in its glory twittering, squawking, rustling, creaking, swaying; nature is noisy!  Despite this there is peace & stillness; a sense of calm.  I find excitement in the next hug I will embrace with those closest to me, knowing that hug will have the most meaning that it will ever have; human connection is so precious.  Life is at times challenging but it is equally beautiful.  I look forward to appreciating getting into my car and freely driving to work, to boarding a plane again for a family holiday, to dining with friends, to taking the children to the cinema, to so many things, but most of all I am so grateful to be given an opportunity to stop, stand back and value life & the amazing humans within it.
What is the new normal in lockdown? Taking a laptop to every house party is paramount!  We have already had so much fun with friends in virtual house parties, gin nights, coffee mornings and general catch ups.  Exercising with your fitness pals in virtual classrooms and valuing food and its nutritional benefits.  Working remotely with FaceTime as your lifeline!  It is to take time with your family to walk together,  to value friendship more than ever before, recognise the people that are vital to your wellbeing, to find laughter in the obscure, to listen to stillness, to appreciate your health, to be present, to endure yet be grateful.
Be happy, be healthy and stay at home!
If it's YOUR time to take some control in a world has become a litre more overwhelming, then choose My Time for Change by Emma Wilson Fitness.
www.mytimeforchange.co.uk | Email Emma [email protected] | 07971 596529
Categorised in Uncategorised